Formulate
The more difficult your project is to formulate, the harder to fill, the more dogged we will be in relentless pursuit of an optimal solution. We've got this.
Key Stats
600+
on-shelf products developed or improved by our team members
280
unique formulas in production
225,000
square feet of combined pharmaceutical facilities
>20%
of staff dedicated to a Quality function
Key To Success
Our commitment to 30% of purely speculative R&D really sets us apart when it comes time to formulate your product. It's that investment, and our depth of experience across a range of industries and applications, that enable us to connect seemingly disparate dots to successfully tackle your most complex formulation issues — even if others have failed before. Give us a challenge and watch us get to work for you.
We have a reputation for creative problem solving. There are few things we enjoy more than opening a door that initially looks firmly locked. We look for and embrace new ways of doing things. You'll never, ever, hear us say, "because this is how we've always done it."
Uniquely Inventive
Our expert team of scientists and lab technicians will work alongside your in-house R&D, supply chain or marketing staff to develop exactly the right formulation for your needs. We call it co-creation, and our uniquely inventive thinking creates tremendous value for our Brand Partners.
Our job is to help you create high-quality solutions that your customers will love, and will love using; that's why they are on our mind at every step of the development process. Our deep experience and company-wide culture of innovation allow us to home in on ideal solutions, while weeding out those ideas that don't best serve your customers' needs.
Always Thinking End User
Another thing always top-of-mind during formulation is adherence. Whether your product is a Branded Rx, OTC, or medical device, it's crucial that your customers actually want to use it, and even love to use it. Optimum formulation ensures correct, consistent usage, and fosters brand loyalty. This is true for all forms that we work with: sprays, foams, gas-emulsions, ointments, powder sprays, single dose wipes, packettes, film formers and so on — and it's also true for the exciting new forms and applications that we will create in the future.
We are problem solvers. We create value by listening to your customers' needs, creating novel application opportunities, developing consumer-focused extensions to existing product lines, and reformulating and improving existing products for an ideal user experience.
In support of creating a modern, innovative, and collaborative work environment, in 2019 we completed a full build-out of a brand new Innovation and Development (I&D) work space. Check out the attached video to see the results.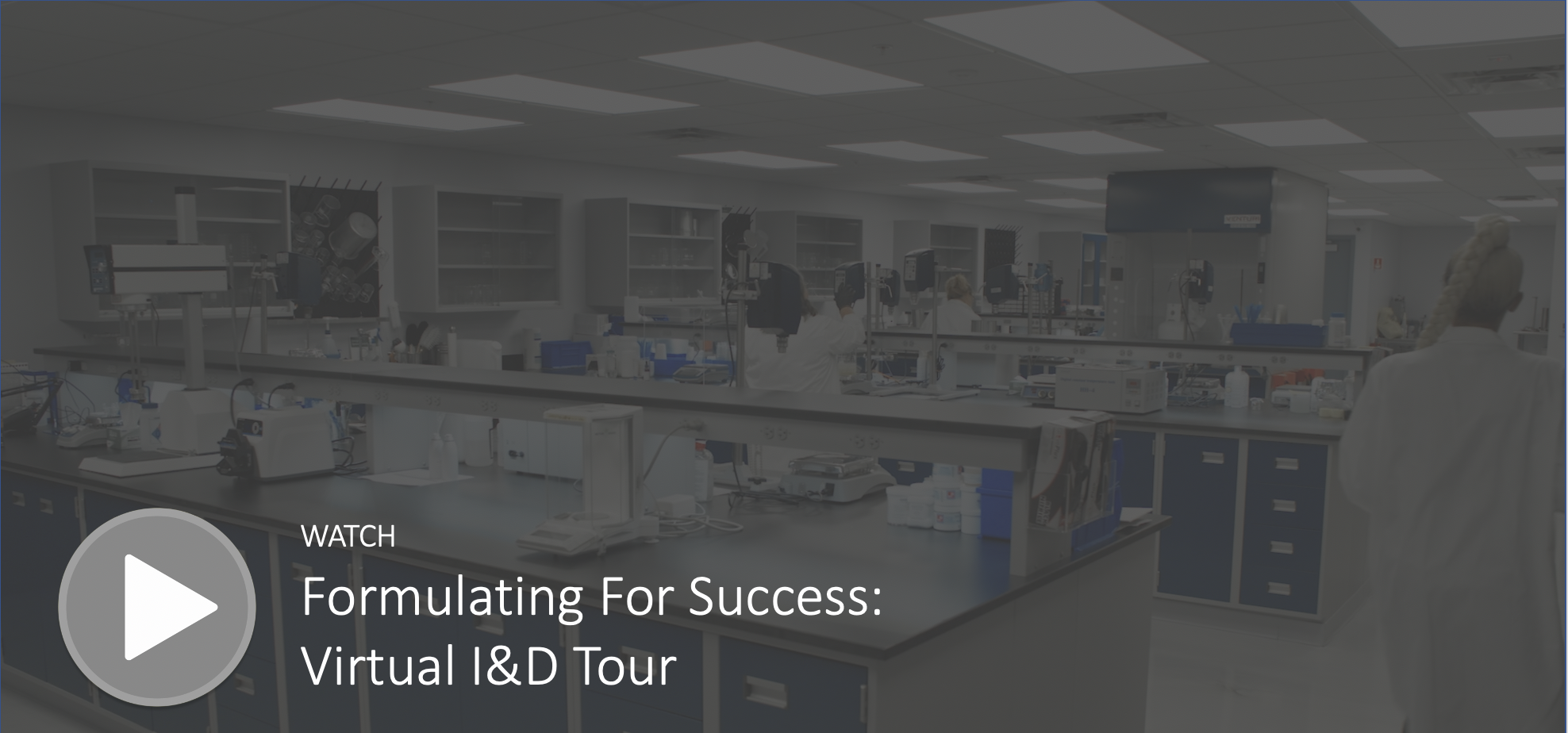 Added Value
In addition to the ability to develop, validate and transfer methods, we offer a full suite of micro and analytical capabilities. Our services include:
Turnkey solutions
New product development and ideation
Package development and selection
Specifications development
Process development
Material sourcing
Product pricing simulation and models

Methods development

Product scale-up

Full-scale manufacturing
Regulatory Expertise
Our 220,000 square foot facility in Central Florida houses a certified cGMP production facility and cGLP laboratory. The products we manufacture are shipped to 46 countries around the world. We hold international registrations with the FDA, Health Canada, ANVISA, EPA, ATF, Florida Dept of Health, the Florida Bureau of Pharmacy and TGA. Our regulatory record is excellent.
Learn More
That was the cleanest, most organized facility I've ever been in.
Chief Operating Officer - Global SkinCare Company
Case Studies
Learn more about how we've overcome difficult formulation challenges and achieved market growth for our customers in the case studies linked below.