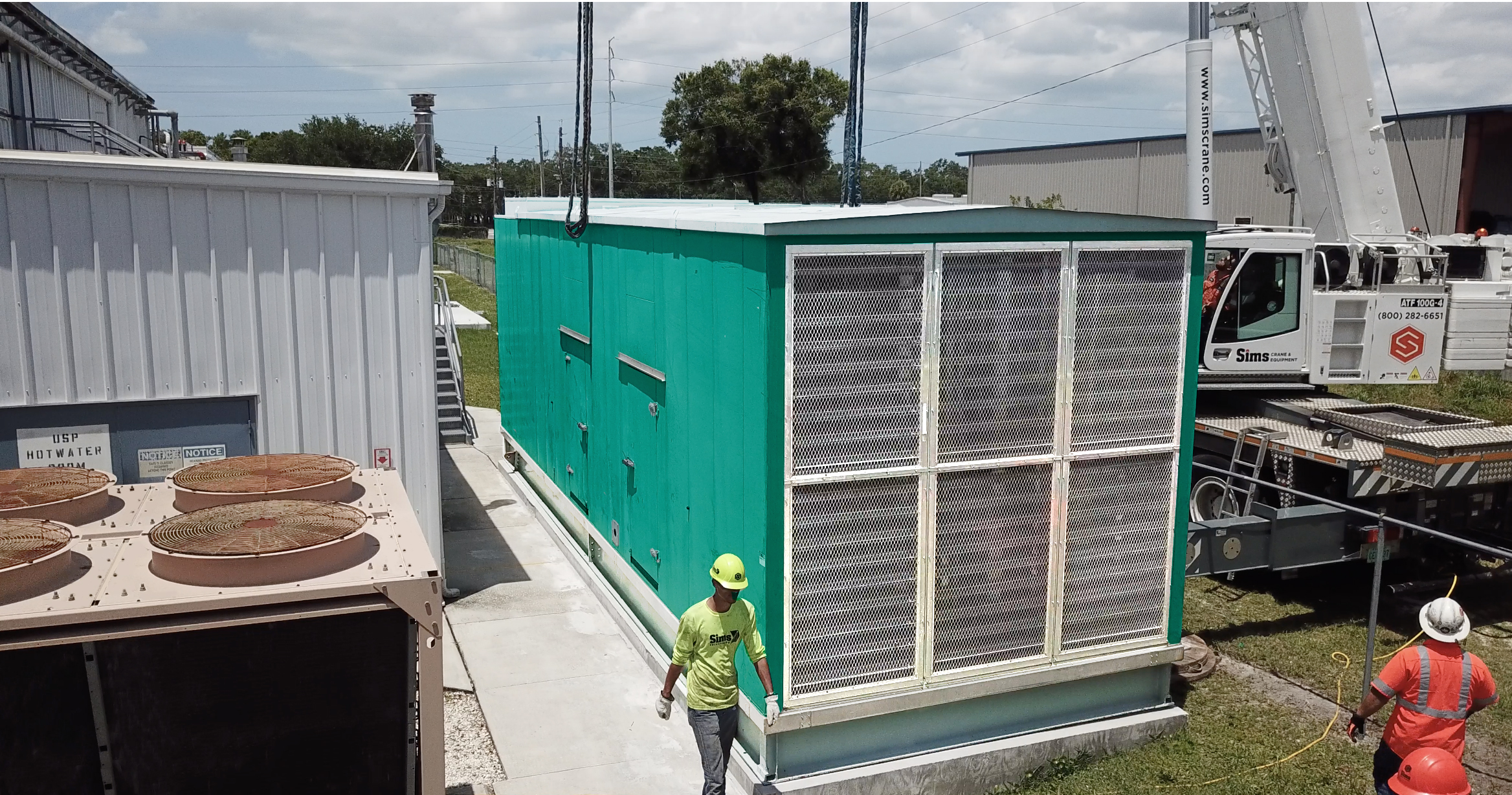 Uninterrupted power supply is a critical factor to any production operation and the Formulated Solutions Consumer Healthcare manufacturing site, located just outside of Clearwater, Florida is no exception. "Being located along a key logistics artery is an incredible benefit for a site such as ours", says Scott Carpenter, VP of Marketing and Partner Innovation, "however, 2/3rds of the electricity we consume is provided to us by above-ground power lines that are unfortunately subject to disruption caused by infrequent, yet still significant, commuter-related power line collisions." In response to this need, Formulated Solutions has taken a multi prong approach to ensuring continuous power security and production readiness reliability.
The first stage of Formulated Solutions' continuous power plan was the installation of three new on-site power generators, cumulatively providing 3 MW of backup electrical power supply. Each will be natural gas powered and will serve as a safe guard against localized and regional power disruption. This significant investment, combined with efforts to convert above ground electrical service to a significantly less vulnerable underground service, will undoubtedly lead to fewer power loss events and an assurance that such events will be non-disruptive to operations.
But what about growth? Will 3 MW be enough to support the ongoing growth and expansion of operations? "Undoubtedly", says Carpenter "Significant additional investments in infrastructure and efficiency are wide spread throughout the site and include installation of a series of high efficiency chiller units. These units will not only play a substantial role in reducing the overall energy demand related to temperature and humidity control, longer term they will be used to more efficiently supply hot and cold water used in production processes, which in many cases are currently supported by electrical heating/cooling. The end result with be markedly lower energy requirements that will reduce overall backup energy needs should primary power become disrupted."
Carpenter says, "Our future is bright, and the investments being made at Formulated Solutions demonstrate an ongoing commitment to preparation for the sunny days ahead."
Formulated Solutions is privately held, innovation-forward, turnkey Contract Development and Manufacturing Organization (CDMO), exclusively servicing brand owners in the Consumer Healthcare space. Products manufactured by FS include OTC and Rx products in the Topical, Ocular, Nasal, and Rectal applications including flexible tube, airless package, single dose wipe, sachet, and pressurized package formats.