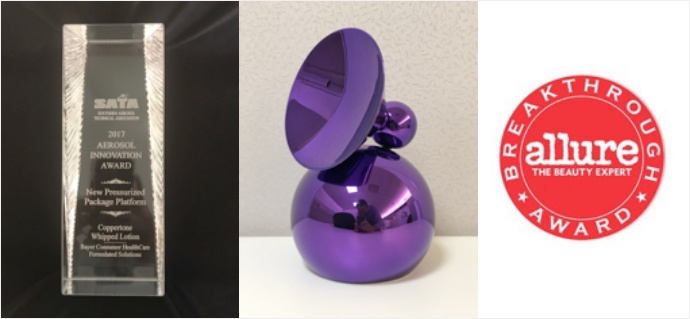 It was an amazing month for Formulated Solutions as three separate organizations recognized our branded partners for launches which leverage our proprietary eN₂fused™ Whipped Lotion Technology.
In separate events, our partners were recognized by Allure Magazine with their Best of Beauty Breakthrough Award, the Southern Aerosol Technical Association (SATA) Aerosol Innovation Award, and the Aerosol Dispensing Forum (ADF) Personal Care Innovation Award. "Any of these awards are worth celebrating on their own", said Scott Carpenter, VP of Marketing and Partner Innovation, "but to see our branded partners recognized three times within three weeks is nothing short of remarkable."
The eN₂fused™ Whipped Lotion Technology is an innovative patent-pending dispensing technology designed to increase speed of product absorption and ease of application. Formulated Solutions' unique approach infuses millions of microbubbles into customized formulas which rapidly expand when dispensed, creating a finely whipped, luxurious, creamy, yet easy to spread and rub-in experience.
For more information on eN₂fused™ and your contract development and manufacturing needs, contact Formulated Solutions.