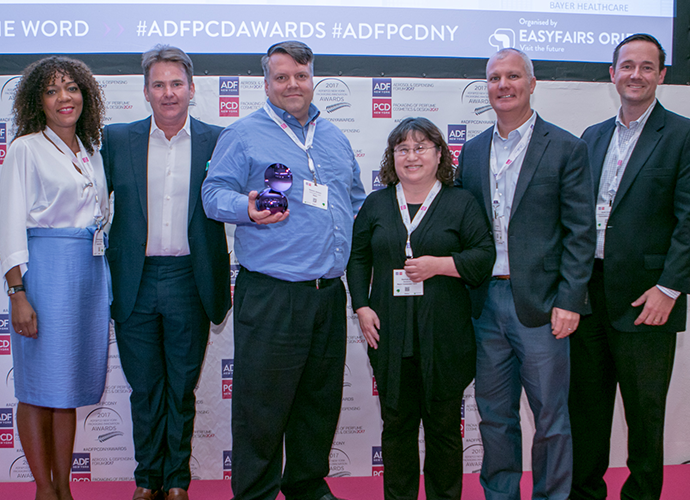 ADF (Aerosol Dispensing Forum) and PCD (Packaging of Perfume, Cosmetics & Design) announced the winners of the Innovations Awards at an Awards Ceremony yesterday during the show.
Show director Christelle Anya, and master of ceremonies Paul Austin of Austin Advisory Group, presided over the ceremony. Each of the winners received a special trophy and presented a short talk on what made the winning entry so innovative.
The Innovation Awards, now in their second year, recognize outstanding achievements and encourage the industry to push the boundaries with technological and creative innovations in aerosol, dispensing, personal care and cosmetic packaging.
The winners of the ADF&PCD Innovation Awards are:
ADF Personal Care: 2-way tie
COPPERTONE Whipped Lotion Sunscreen
KANEBO Evita Beauty Whip Soap
ADF Industrial & Technical Suppliers' Application
BALL CORPORATION L'Oréal Men Expert can
PCD Skincare
AVEDA Tulasara Wedding Masque
PCD Make up
BOBBI BROWN Liquid Lip Art Stick
PCD Haircare
GARNIER FRUCTIS renovation
PCD Fragrance
CALVIN KLEIN CK One Gold
"It's a great honor to be recognized for our commitment to sustainability and we applaud L'Oreal for their commitment as well. This product proves that you can have beautiful and environmentally sustainable packaging that is also cost-effective. It's a win-win for everyone, and something that we are going to see more and more of," said award recipient Stan Platek, Vice President & General Manager at Ball Corporation.
"As a healthcare focused innovation development and manufacturing company, receiving an innovation award in personal care is particularly rewarding. It speaks to the diligence we place on the consumer experience and the intimacy our products play in their daily lives. Our mission is to make products that consumers love to use, and this recognition is proof positive that we are delivering on that goal," shared award recipient Scott Carpenter, Vice President & Partner Innovation
Winners were selected after a tough judging session by an independent jury of packaging experts. The panel consisted of:
Paul Austin, Austin Advisory Group
Cynthia Hundley, Spray Magazine
Lorraine Keyes-Ahart, Estée Lauder
Detlev Melcher, Aerosol Europe Magazine
Ian Nicholson, Colgate-Palmolive Co
Eric O'Toole, Pratt Institute
Bernard Quennessen, Coty
Marianne Rosner Kilmchuck, Fashion Institute of Technology (FIT)
Deanna Utroske, cosmeticsdesign.com
Valery Vanstaan, PHD, ITW
Ryan Young, L'Oreal
"I really enjoyed participating in the ADF&PCD awards jury. It was very exciting to see the many innovations in materials, design, manufacturing methods, and decoration up for consideration for awards this year," enthused Lorraine Keyes-Ahart, Clinique Global Package Development at Estée Lauder.
Ian Nicholson, Worldwide Director Strategic Innovation & Technology Alliances at Colgate Palmolive, was also impressed by the quality of the entries, stating: "The award submissions are great examples of creative companies seeking to better meet the needs of their users, which is essential in delivering superior business results."